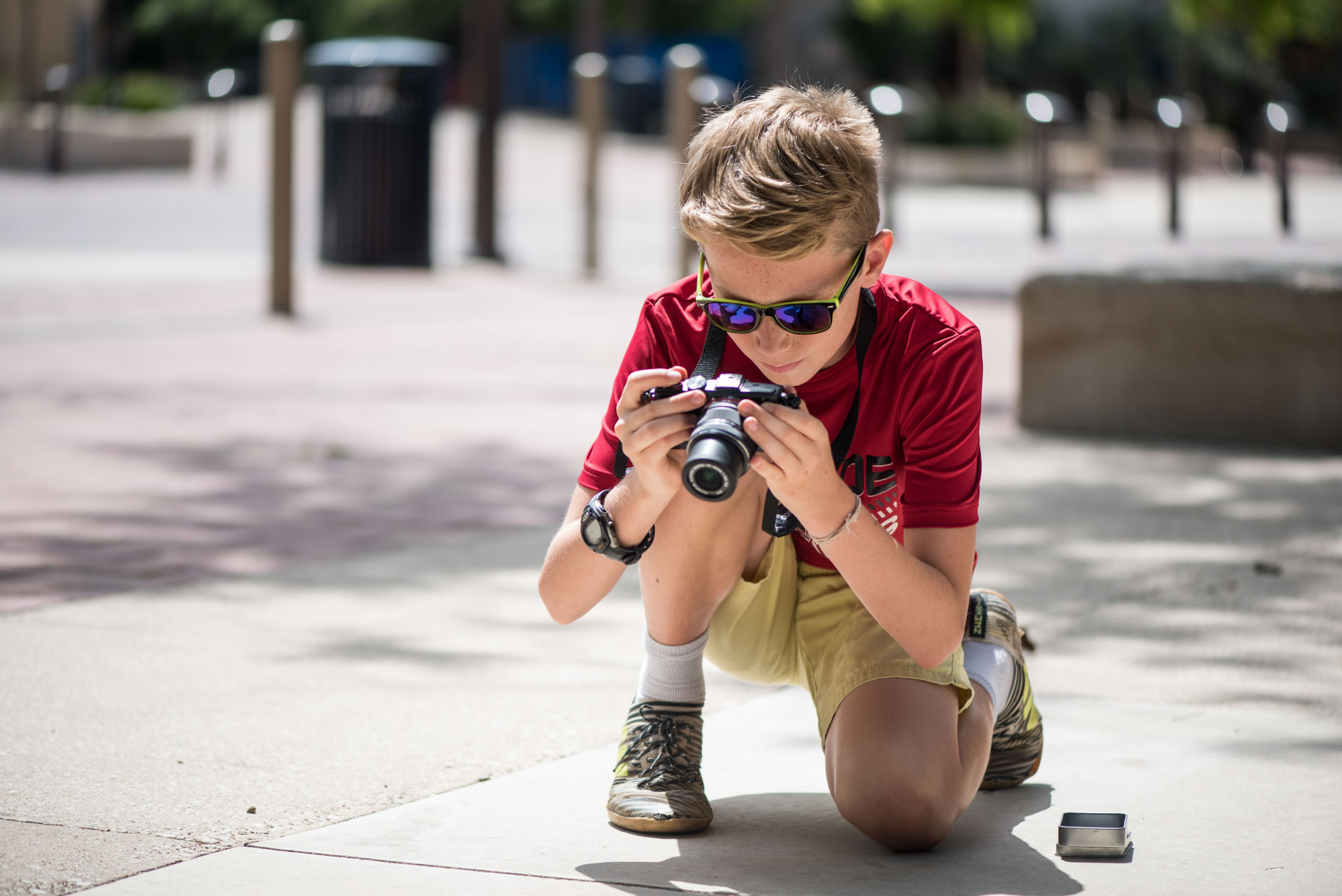 Photography & Video Camp
Photography + Video Camp is a fun introduction to digital imaging. Kids enthralled by images, excited by technology, and eager to CREATE will love this week long camp. Hosted at Hemisfair, and programmed by Bridge Projects.
The Activities: Photography + Video Camp will broaden your knowledge of cameras and video production! We'll take digital photographs, capture short video segments, and cut together a class video! Hosted at Hemisfair, we'll spend lots of time outside exploring, using photographic tools, and doing activities such as:
-Making photographs
-Capture short stories appropriate for publishing on youtube (publishing is left to the parent's discretion).
-Printing photographs and making them into kites to see your creations soar!
-Hot afternoon spent playing in Hemisfair's famous splash pad!
-Closing exhibition, where campers get to show their work off to their parents
The Instructors: Bridge Camp is directed by Cade Bradshaw, an artist and summer camp veteran! Our Bridge Staff are the best and brightest – and include certified teachers, scientists, artists, and parents!
The Idea: Learn photographic tools plus visual and verbal communication skills. Every student will leave camp with at least 1 printed photograph, a photo kite, and a digital video, plus the confidence to start new projects on their own. More than a ready-made project (and free of popsicle sticks or glitter) Photography + Video Camp is fun, useful, and confidence building!
The Details:
-Ages 9-14 (some exceptions can be made, please email contact@bridgesatx.com)
-Dropoff from 8-8:30am, pickup from 3-3:30pm
-Campers will pack their own lunch and snacks.
-A portion of the proceeds benefit Hemisfair!
-Kids may bring their own camera (or even a smart phone), but it is not required.
Hourly Schedule
8:00

-

8:30

Check in and Dropoff
8:30

-

8:45

Warmup Activity
8:45

-

10:45

Rotations & Exploration Activities
10:45

-

11:00

Snack!
11:00

-

12:00

Major Photography Project, Round 1
12:00

-

12:30

Lunch
12:30

-

1:30

Major Video Project, Round 2
1:30

-

1:45

Snack Again!
1:45

-

2:45

Afternoon Play!
2:45

-

3:00

Clean & Pack Up
3:00

-

3:30

Check Out & Pickup
3:30

-

5:00

After Care Available

Register First! After care is purchased daily.